In last week we had discussed about the NIFTY Pharma Index. Let's take a quick look at the performances of major indices for current week.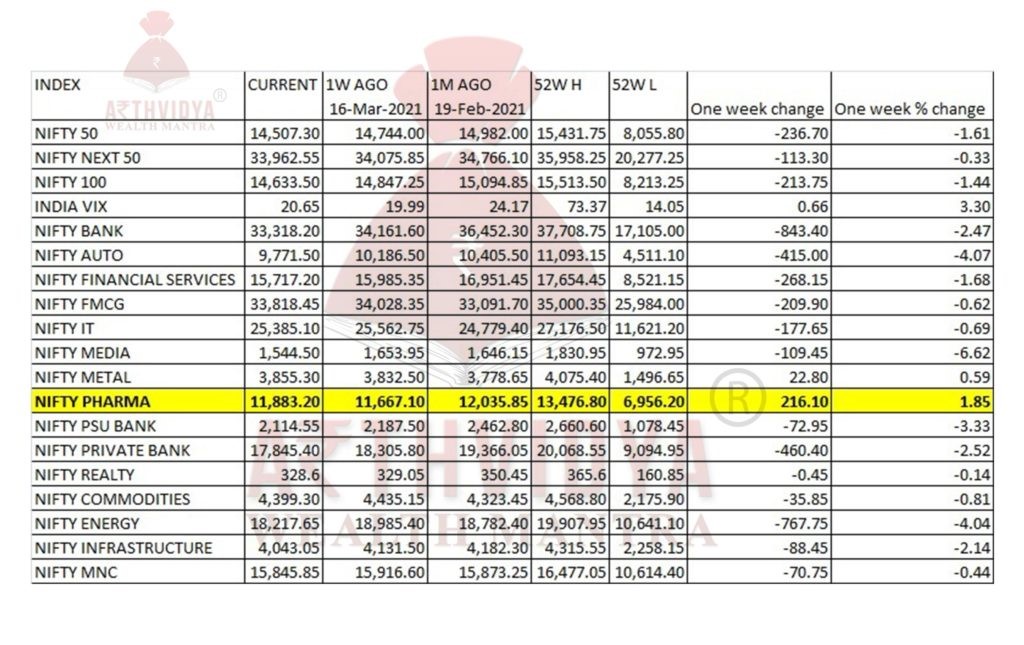 As you can see the overall performance in many sectoral indices is Negative except Pharma Index and to some extent Metal Index. The NIFTY PHARMA Index closed at 11883.20 compared to 11667.10 in the previous week i.e. 216 points (1.85%) upwards despite overall selling pressure across all equity market.
Are you wondering why this could have happened?
The NIFTY Pharma Index is called safe heaven index or defensive sector compared to all other sectoral indices. And this is one of the reasons behind the performance of this index, as we know that in any diverse situation or condition we cannot avoid to consume medicines and hence the pharma sector is safe from being affected. So whenever there is selling in other Sectors, we can observe buying in the Pharma Sector. In other words we can say that smart investors shift their investments from other sectors to Pharma Sector. The same thing we had predicted with the help of Technical Analysis. And this is what we want to highlight that Technical Analysis is not just about Chart Patterns but a huge Data Science.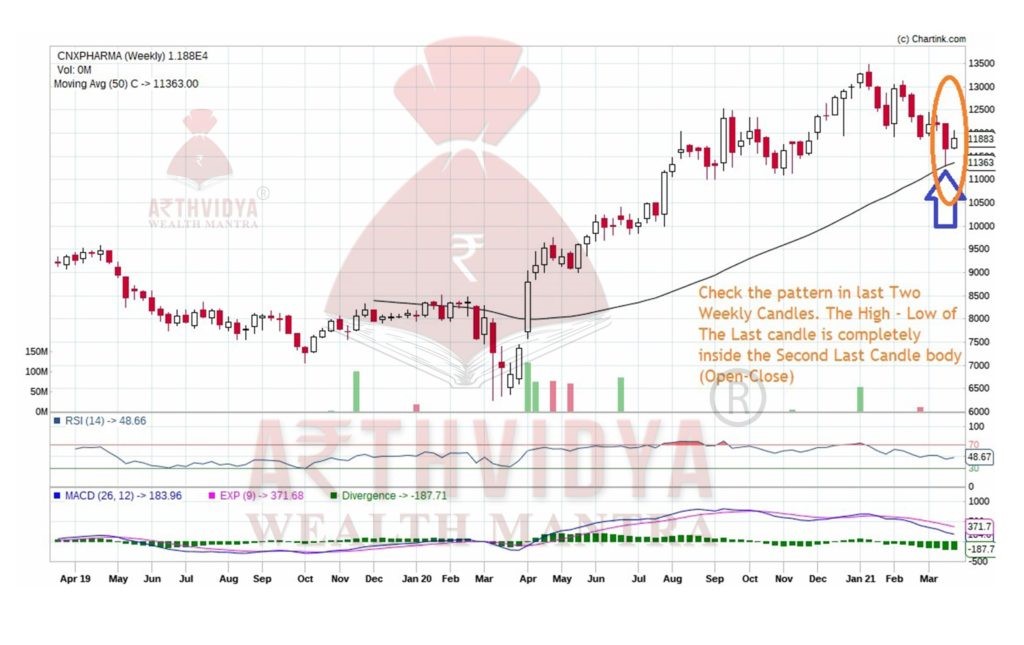 As shown in above chart; we are observing formation of a Bullish Harami type of Chart Pattern on weekly chart of NIFTY Pharma Index which is suggesting towards a further bullish view if previous week's high i.e. 12056.25 is broken on upside in the coming days. Momentum indicator RSI at 48.67 is also showing positive divergence confirming the strength in the Pharma Index.
Mr. Digvijay, Co-Founder & Technical Analyst, Arthvidya Wealth Mantra
8484036329 / 79 / 87
www.arthvidya.in / info.arthvidya@gmail.com
Please like our FaceBook Page: https://www.facebook.com/Arthvidya.WealthMantra
Subscribe to our YouTube Channel at :https://studio.youtube.com/channel/UCU4CTekZ6ZAO_y7HNQ9XiYA
Subscribe to our Telegram Channel at:http://t.me/arthvidya"
Disclaimer: This article is intended to be used for information and education purposes only. It is very important to do your own analysis/study before making any investment decision based on your own personal circumstances. We are in no way related to the companies mentioned and discussed in any of our articles and we are not paid by any of these companies in any way.
Investment/Trading in securities Market is subject to market risk, past performance is not a guarantee of future performance. The risk of loss in trading and investment in Securities markets including Equities, Derivatives, Commodity and Currency can be substantial.